CabinPlanner
Wooden house, summer house, log cabin, shed - long-known terms that are recognized by people as a comfortable, beautiful and natural home used for recreation, living or for garden decoration. Wood has always been the most loved by many people for its natural interior value. Today, the wooden house has also acquired a new ecological meaning, which is gaining more and more importance in our modern and globalized world.
Tout acheteur de maison en bois recherche maintenant la commodité, la beauté, la fiabilité et l'attitude professionnelle d'un produit. Tous les fabricants de maisons en bois créent leur gamme standard de maisons en bois, mais souvent, ces modèles standard ne répondent pas aux besoins complets d'un client et n'atteignent pas leur pleine satisfaction. Dans ce cas, des maisons individuelles sont conçues et produites.
Designing, coordinating and confirming an individual design house is usually a lengthy process that involves the end customer, retailer and manufacturer. The expense of time and labor involved in pricing, bidding, or making some changes make this process less enjoyable and more expensive. To avoid these problems, to save everyone's time and expense, Janolex Ltd has created unique software that allows homes to be designed and prices calculated in real time.
When the client has the opportunity to chat with a consultant and design their own home on the same day they come to inquire about the possibility of an individual project, it is truly impressive and enjoyable for all parties. As a manufacturer, Janolex Ltd has taken single family home design to another level and set a new standard for fast, high quality service in all businesses.
How it works?
Start drawing from scratch or use one of our templates
We have a number of templates to get you started. If our models don't meet your needs, start with the most basic model. After choosing a starting point, the next step is to define the thickness of the walls of the house. You can then drag and draw the walls to get the house's external measurements and layout you want.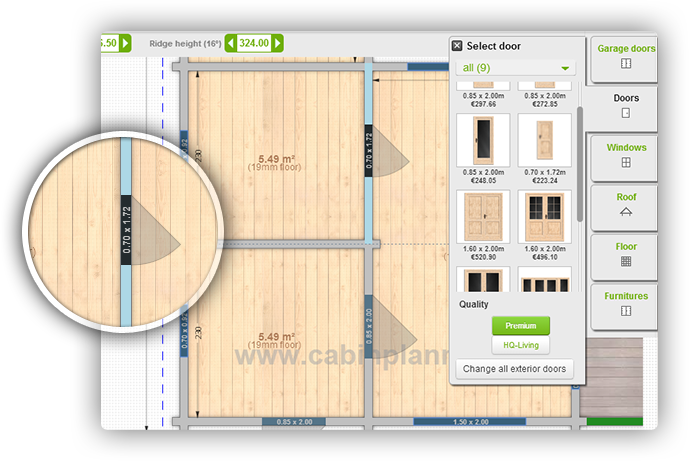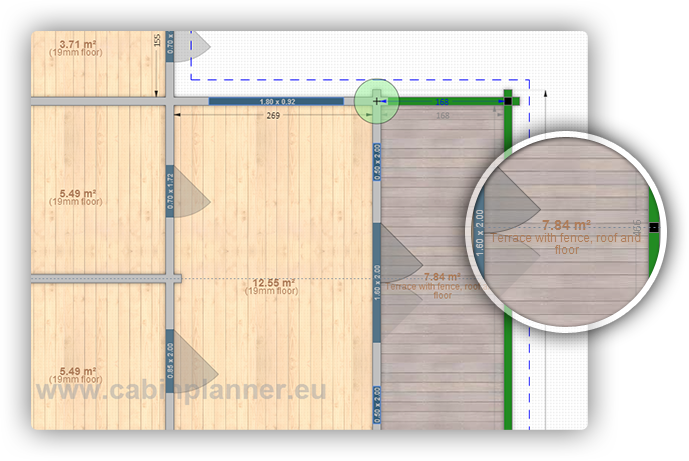 Terraces and lofts
After the outer and inner walls are finished, you can start drawing terraces. A terrace can be designed with different measures, with or without fences. The terraces can also be with a roof above or simply with terrace boards. Entrance to the terraces can be adjusted according to your needs. Cabinplanner® also allows its users to plan a mezzanine above the whole house or parts of it.
Drop and slide doors, windows and furniture
After you have drawn your walls, loft and patio, you can start placing the necessary doors and windows. Doors and windows are placed very easily by dragging and dropping them where you want them. If the position of windows or doors needs to be changed, they can be easily moved on the wall.
Click on a door to choose the opening direction and side. The doors and windows are all double glazed with 4mm + 16mm + 4mm glass. Cabinplanner also allows you to choose from different qualities of window and door frames. You can choose high quality basic summer house type window and doors or European standard living house doors and windows.
Preview your work
While designing the house, you can see the real-time changes on all four sides of the house in the previews on the left of the screen. By clicking on the preview icons on the left window, you can get a closer look at one of the 4 sides of the designed cabin. This is a great opportunity to revisit the exterior appearance of your dream home and make some changes. Also on these side views you can change the location of the ridge if needed. The app's algorithm will decide where you will be allowed to place the house ridge.
See cabins details & calculate price
After and during the drawing and designing of the house, you can see the final price. Also in the same Cabinplanner® section, you will see the details of the cabin: square meters of floor and roof, ridge height, wall height and roof angle. If the house designs are finished, you can choose to save them to your account and export the information to a PDF file with house details and price. All registered designs have a unique serial number, for easy communication between customers and sellers and production.